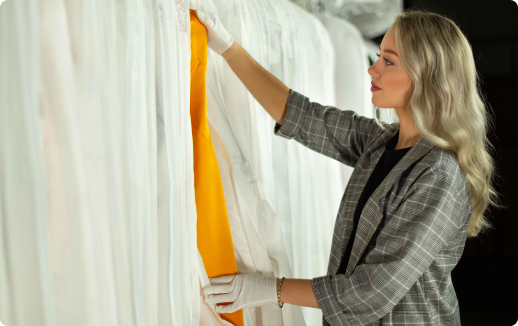 In 2001, Garde Robe made its groundbreaking debut as the world's first luxury wardrobe storage and valet service. Conceived to break through the confines of well-heeled New Yorker's diminutive closets and into a world of endless space, Garde Robe was the first storage company of any kind to provide online access to stored items, via the signature Cyber Closet. Currently celebrating its 20th anniversary, Garde Robe has set the industry standard for garment care, melding form and function to cultivate closet experiences.
Renowned for its holistic approach to garment storage, Garde Robe is an innovator with a knack for proactively identifying its customers's unique requirements. Offering a climate-controlled storage environment designed exclusively for clothing, footwear and accessories, Garde Robe and its team of highly trained archivists combine museum quality storage with the ultimate convenience of same-day access. The Cyber Closet, a private, customizable digital look-book allows members to view, manage and access their precious collections on-demand throughout the world, without limitation. Garde Robe complements its core service by providing access to best in class tailors, stylists, personal shoppers, luggage packing and so much more! With a proven ability to meet the needs of discerning fashion insiders, renowned couture houses, globetrotters, and designers alike, Garde Robe's reputation is unparalleled.
Garde Robe has been capturing the attention of national and international publications since its inception. Read on to learn what they are saying.
As seen in Newport Beach 2017
GAIN EXTRA CLOSET SPACE WITH GARDE ROBE'S SINGULAR STORAGE AND DELIVERY SERVICE.
For too many clothes and not enough space to a limited need for seasonal attire, these are just some of the challenges faced by fashionistas. Enter Garde Robe, a luxury wardrobe storage and valet service with an app for keeping track of the location of each item. The company has been in business since 2001 and expanded to California nine years later, including service to Orange County.
"Clients love the service for the level of care…[for their] clothing, ability to access things places elsewhere or via the Cyber Closet app and the elegance and convenience of the white glove aspect," says Doug Greenberg, vice president of sales and marketing for Garde Robe.
Known for its bespoke service, the company will send a representative to pick up and deliver the selected clothes, shoes and accessories. Once items arrive at the Garde Robe facility, they go through a detailed inspection and are photographed and cataloged to the minute detail, including color, size and designer. After garments have been photographed, they are dry-cleaned if necessary and wrapped in tissue and placed in breathable garment bags or boxes when appropriate, following the same textile preservation standards used by museums. The items are kept in a climate-controlled, air-purified environment, which is protected against moths.
Different members utilize the service for different needs. Some store items seasonally so that, at certain times of the year, select garments are at home while others remain in the Garde Robe facility. Others use it for long-term archival storage for high-value gowns and fur coats, or transportation of garments between multiple homes and travel destinations. Those who have a fashion emergency can count on the company to provide the item at a moment's notice; Garde Robe offers same-day delivery service.
The company counts actress Gwyneth Paltrow and model Iman among its members, and also has worked with top fashion designers like Carolina Herrera and Oscar de la Renta on storing their archives.